Our cafe is located in one of the cutest towns in NJ. We might be a little biased, but we think it's a lot like Stars Hollow… From the historic main street to the farms and mountains, Sparta has a little bit of everything. If you're heading our way for lunch or dinner, check out these other spots around town.
Sparta Shopping
credit: njherald.com
We love antiques for decorating our parties, and our friends at The Stock Exchange have everything you need! The historic house is beautiful with two stories of home decor, clothing, and accessories. This is the perfect place to stop while planning a dinner party to find a centerpiece or tablecloth to complete your display.
FrommFamily.com
If you know anything about the CP people, it's that we have a lot of Pierrot Pups. We even have a Waggmore water bowl for fur-friends relaxing on our porch during lunch. The little store has all kinds of gourmet treats for your pet, and make a fun stop during your morning dogwalk.
credit: lakemohawkgermanchristmasmarket.com
Lake Mohawk German Christmas Market
This event has become pretty famous over the years, so you should make a trip out to see it if you're in the area Dec 1-2. Our cafe is walking distance from Lake Mohawk, and we have our own delicious German stollen loaves for sale in our store! If you happen to be in town for the market, make a stop art our cafe, too!
Outdoor Activities
Sometimes you need to work off the cupcakes, and fortunately rural Sparta, NJ has plenty of outdoor space to hike and bike. Or you could bring macarons as a hiking snack. We do it all the time.
credit: conservewildlifenj.org
Sparta Mountain Wildlife Management Area
This hiking area offers beautiful views over Sparta and surrounding towns. With a trail map in hand, you'll find your way around while observing the birds and natural resources on the mountain.
Part of the mountain is maintained by the Audubon society, so you'll definitely find a large variety of birds during your hike.
For extra points, visit the Edison Monument within Sparta Mountain! Thomas Edison built a village around iron mines on the mountains, although homes in the village are no longer standing. Unsurprisingly, these were among the first in the area to have electricity.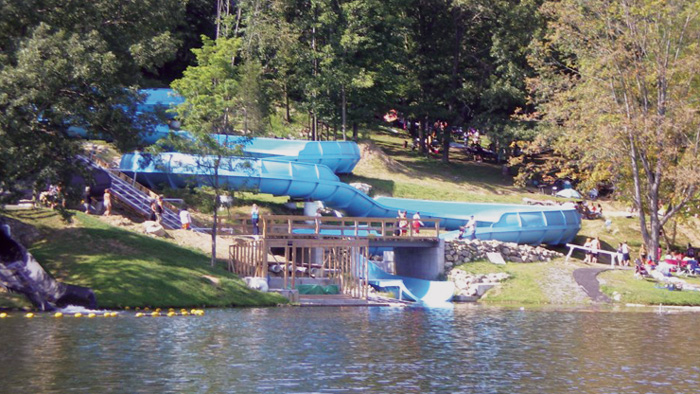 credit: njskylands.com
If you're hot during the summer, try the Tomahawk Lake Water Park to cool off! With plenty of slides and paddle boats, you should visit at least once during the summer.
Venues
Looking for a spot to host our bridal shower or wedding? Sparta has some beautiful locations around town.
credit: traincreative.org
This little train station is one of the big reminders of Stars Hollow. While the train no longer stops at the station (except at Christmas!) the train station can be rented for events, such as showers or painting classes. Train Creative also offers their own art classes at this newly-restored location.
credit: skyviewgolfclub.com
This farm is a gorgeous location for a wedding. It's equal parts elegant and rustic. We've made cakes and desserts for weddings as well as Sweet 16s and other celebrations. Click around on their site to see more photos!
credit: idaliaphotography.com
Your guests will never forget a gorgeous lakefront wedding. Have the ceremony outside on the boardwalk and enjoy the dinner inside the facility. Don't forget to order your cake from Cafe Pierrot here, too! 🙂
Other Favorite Spots
credit: remax.com
Lake Mohawk Boardwalk
We love walking down to the boardwalk after lunch or dinner. While it is small, there are benches to enjoy the view of the lake and you'll always see someone you know walking around.
credit: tripadvisor.com
Even though we'll usually go for the cake, sometimes you just want ice cream. Alpine Creamery has delicious homemade flavors, and we always grab a cup on the way to watch 4th of July fireworks on the boardwalk.
Hope you enjoyed our little roundup of activities around Sparta! Next time you're in town, we hope you'll visit us and let us know your favorite places in town!
Don't miss our guide to Andover Borough!